Home About Stuart About the DVDs Testimonials Success Stories Where To Buy Legal Notice Contact Us
Stuart Dillonís: The Voice Over is the most comprehensive course on commercial voice over there is. This five part, seven DVD set and exclusive Members Support Website provide everything youíll need to know about the business and techniques of commercial voice over.
Own this extraordinary DVD Master Class Today!
---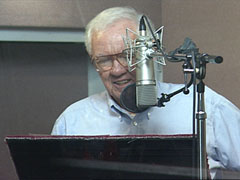 If you're thinking about getting into voice overs, The Voice Over provides the competitive edge you need to help you succeed in the voice over industry!
"Stuart Dillon is the best Voice-Over Teacher I know."
William Esper: William Esper Studio, Internationally Respected Acting Instructor

"Quite simply, Stuart Dillon, is the best Voice-Over Teacher there is."
Voice-Over Legend Peter Thomas: Nova, American Express, National Geographic

"Since taking Stuart's class, I make a very good living doing voice overs, which gives me the freedom to devote more time to my theatrical career."
Gary Evans: Actor and voice over talent

"Stuart's class has given me the tools to build a five figure income from voice acting, which affords me more time for my stage work, provides regular contact with many casting directors, and has opened a lot of doors for me."
Robert Krakovski: Actor and voice over talent

"If you want to learn from the best, the list starts and ends with Stuart Dillon."
Wayne Lopez: TV actor - CSI: Miami, Without a Trace
What's included in the course.
Read about some of our graduates that have gone on to have successful careers.
See more of what leading professionals are saying about Stuart Dillon.
Get the edge you need to succeed in voice overs!